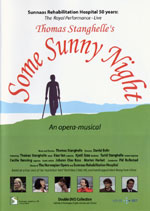 Some Sunny Night DVD (2005)

Distribusjon: Song Records Norway

New double DVD from "Thomas Stanghelle's opera-musical Some Sunny Night" is now available in the shop. The live performance took place at Sunnaas Rehabilitation Hospital's 50-year anniversary. The Norwegian Crown Princess Mette Marit was in the audience. Among the guest artists are A-HA vocalist Morten Harket, Olympic Champion Johann Olav Koss and Xiao Yan from China.
Thomas Stanghelle sings the tenor-part "Mark Wang" - the Chinese boy that survived an aircrash. Turid Stanghelle sings the part "Shen Lipeng" (Mark's mother). Kjetil Støa performs as the "marathon hero - Ketil Moe". Cecilie Rønning play Ketil Moes wife "Astrid".